We have a 7-day economy JR pass, which after running our schedule through the JR calculator saves us a few bucks but mostly saves us on time.
After purchasing, we received an Exchange Order in Australia. We treat this as our actual pass until we arrive in Japan, locate the nearest JR Exchange office and swap our Exchange Order for a Japan Rail Pass.
We must show our passport, temporary visitor stamp and exchange order to receive the pass. Our names on the Exchange Orders must match out names on our passports.
We will be asked to set an activate date which can be up to 30 days from the date of transformation. The validity period of a Japan Rail Pass is the consecutive days beginning on the date the pass is first used. The pass is by date, not by time or day, so if you start using it in the evening, it will still count as a full day.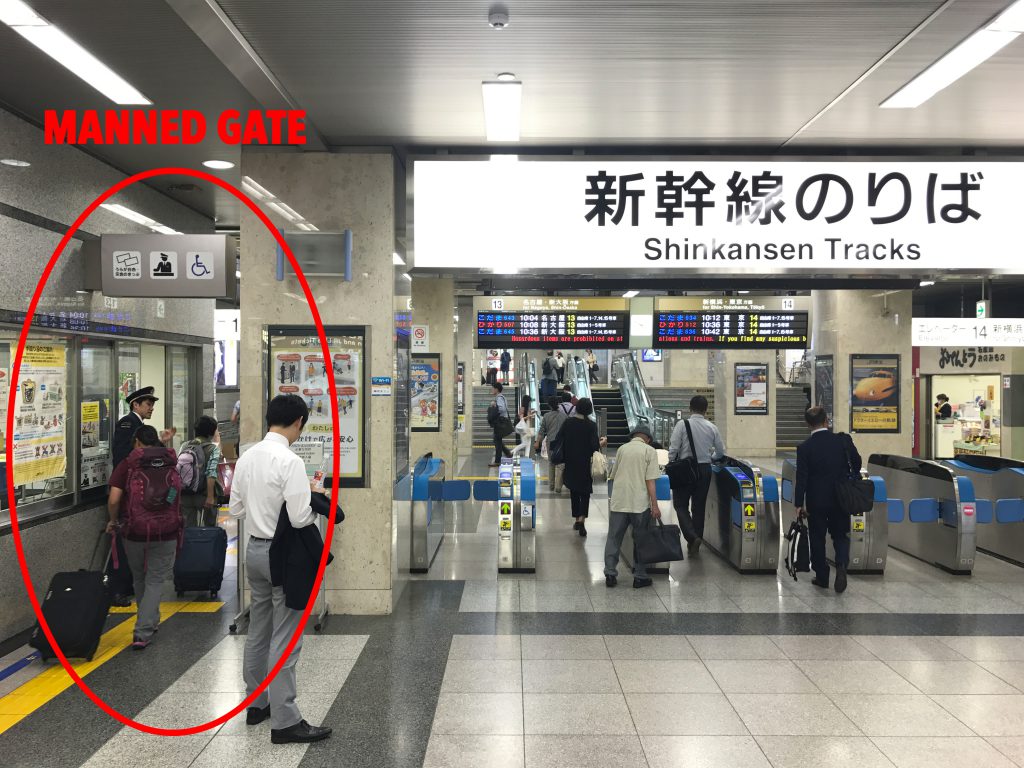 Step-by-step: Using your JR Pass
Reserve your seat: Seat reservations are free with the JR Pass. To make a reservation simply go to Travel Service Centre or a JR reservation office. There you will show your pass and obtain your reserved–seat number. You can learn more about reserving your seat here
Go through the manned ticket gate: When you go to catch your bullet train (shinkansen) you will need to make your way to the regular entrance gate. You will need to go through the manned lane that is next to the service booth. You will then show the staff your JR Rail Pass and they will let you go through. On the odd occasion, you may be asked to show your passport to verify the pass (see image above)
Make your way to the bullet train (shinkansen) platforms: Thankfully there are English signs to help you make your way to your platform. If you get lost on your way then feel free to speak to a member of staff or even someone from the general public.
Go through the bullet train (shinkansen) ticket gates: You will arrive at another set of gates which divides regular and bullet trains. You will once again need to use the manned gates and show a staff member your JR Pass.
Find your platform: You will need to find which platform you need on the electronic screens and make your way there. You can follow the English signs. Generally you will be using escalators to get there.
Find your car: If you have reserved your seats beforehand, you will need to locate your car/carriage. You will see car number signs as you make your way on the platform. If you haven't reserved your seat, then access any car which looks like it isn't full. Just make sure you don't sit in a reserved seat to save you the hassle later on.
Find your seat and store your luggage: Just like airplanes, the seats are all numbered and lettered to make it easy to locate. You can store your luggage above your seat or in the last row at the back of the car. Japan is a very safe country, so don't worry if you leave your luggage down the back and out of sight.
Sit back & relax: Hooray! You're done. Sit back and enjoy the ride. Japan is a beautiful country, and we hope you enjoy your bullet train journey.
What is included in the Japan Rail Pass?
Trains
JR Shinkansen/Bullet Trains) (except on "NOZOMI" and "MIZUHO" trains)
JR Limited express
JR Express
JR Local (Rapid and Special Rapid services)
The Narita – Tokyo Express (NEX)
Tokyo: The JR Yamanote, JR Chūō and JR Keihin-Tōhoku lines
Osaka: The JR Osaka Loop Line
The pass is also valid on the following non-JR lines
– Tokyo Monorail between Hamamatsuchō and Haneda Airport
– Aoimori Railway for journeys starting and ending at Hachinohe and Aomori only, and for journeys from these stations to Noheji and the JR East Ōminato Line.
Buses
JR Hokkaido Bus Company
JR Bus Tohoku Company
JR Bus Kantō Company
JR Tōkai Bus Company
West JR Bus Company
Chūgoku JR Bus Company
JR Shikoku Bus Company
JR Kyushu Bus Company
Hiroshima Sightseeing Loop Bus
Ferry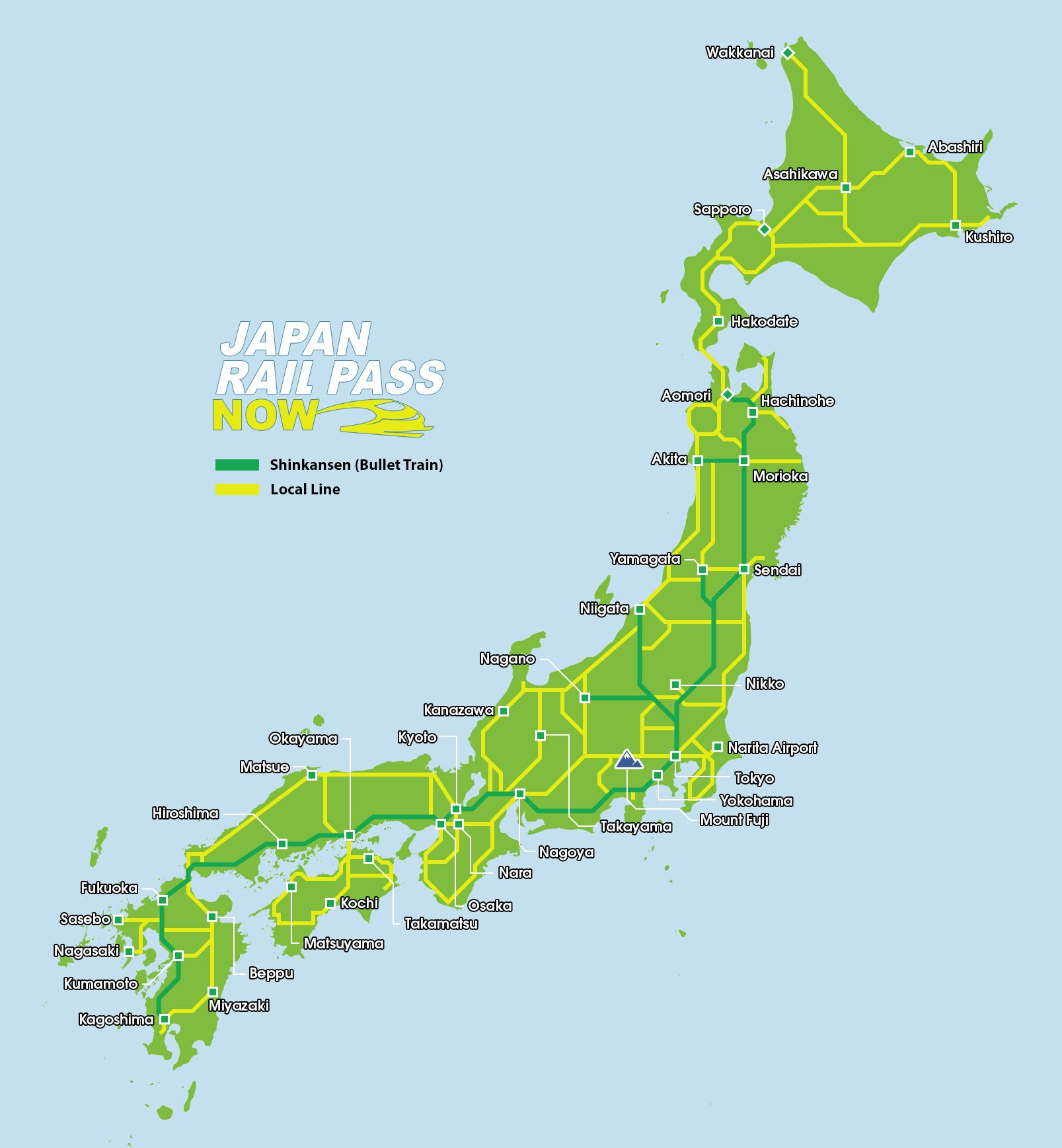 Find out if our trip is covered by the pass.
---
Be sure to keep your JR Pass safe at all times and don't lose it. If you've reserved seats ensure that you keep your seat reservation ticket, as at any time during the trip a ticket inspector may ask to see it and your JR Pass.
All trains operated by the Japan Railways Group are included with only a few exceptions. The extensive Shinkansen Bullet Train network is fully covered with the exception of the Nozomi and Mizuho train. If you hold a dual passport holder you must enter Japan on your non-Japanese passport. The change of name on exchange order attracts a reissue fee of $45.00 per person. Neither an exchange order nor a Japan rail pass can be reissued if lost or stolen.
**Names provided on your JR Passes, must exactly match your passport, including any middle names. Any non-matching names will result in refusal of exchange in Japan, and amendments after payment will incur amendment fees.**